Fixing Mass Effect Bring Down the Sky for Steam
This is a bit long-winded, scroll down for the answer if you're impatient.
With Mass Effect 2 coming out shortly I decided it was high time to go find my save games from the original, as it has been made clear that your actions in the first game will affect the characters and play of the 2nd game.
I found my save games from an old backup (apparently Bioware likes to stick savegames in Users\<Profile_Name>\Documents\Bioware) and copied them over to my desktop machine. On a whim I launched Mass Effect from Steam to see if my savegames were still intact. My first playthrough save (bare-bones, no sidequests, etc.) worked great but my second playthrough (complete, all sidequests) required that I install the "Bring Down the Sky" DLC as I had installed and played it with that profile. After finding the installer and executing it, I was asked for a key. To make a long story short I ended up logging back into my Bioware account to recover my BDtS key (all the while muttering about how stupid this entire process was for a free DLC). Surely I was in the home stretch now…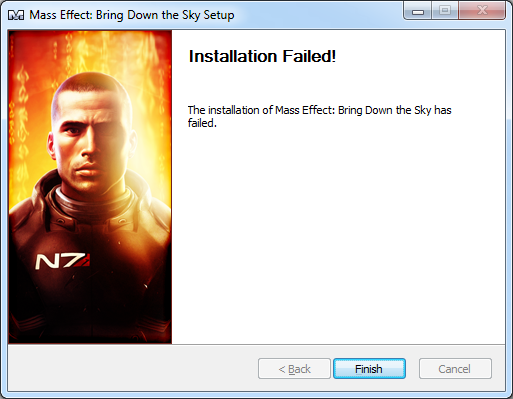 Um, what? I immediately typed the error into Google and was inundated with other people having the same problems. After a bit of background reading (and some more muttering about EA and their stupid DRM on a free expansion) I tried some of the common tricks (killing the Bring Down the Sky_code.exe process, running in compatibility mode, etc.) as well as a few uncommon ones (busting open the installer executable and manually inserting files into the mass effect program folder, doing a differential copy from an old working copy of mass effect w/ BDtS installed).
After a little digging it turns out that the DLC installer relies on a registry entry with your Mass Effect CD key, something that was missing when I checked. Aha!
What Actually Fixed it
Open regedit and navigate to HK_LOCAL\SOFTWARE\Wow6432Node\Electronic Arts\Electronic Arts\Mass Effect ™\egrc (omit Wow6432Node if you're still on a 32 bit OS, shame on you!).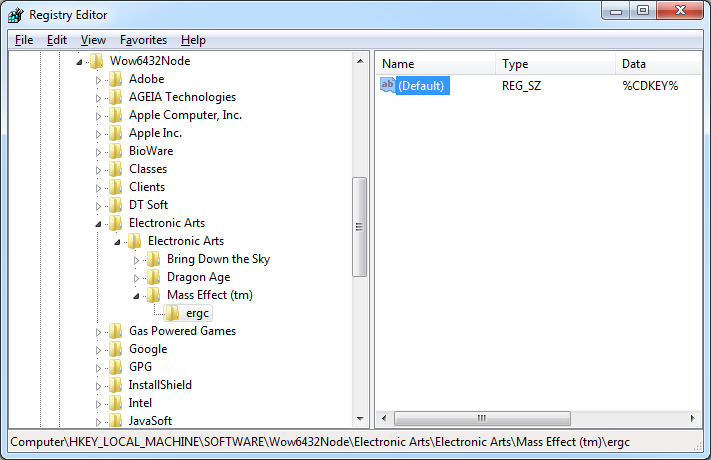 In that key there is a default value, mine was set to something asinine like %CDKEY%. Change this to your actual Mass Effect CD key (not the BDtS key) without dashes (just alphanumeric characters). My CD Key was saved on Bioware's site along with the BTtS key I was assigned, if I am remembering correctly (it has been almost a year) this was provided by Steam in some way originally (maybe through a right click menu or something?). If you never got one or can't figure out how to get to it I suggest talking with Valve support or simply finding a matching key pair (one for Mass Effect, one for BDtS), I'm sure most of you are creative enough to figure that out.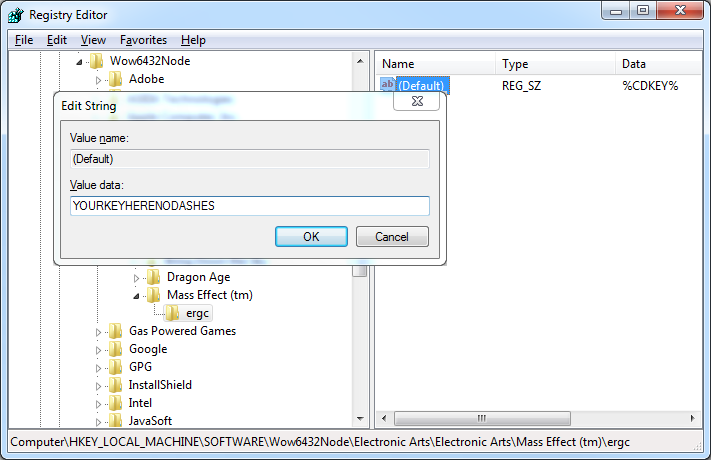 Once you have fixed the Mass Effect CD key you should now be able to install Bring Down the Sky.